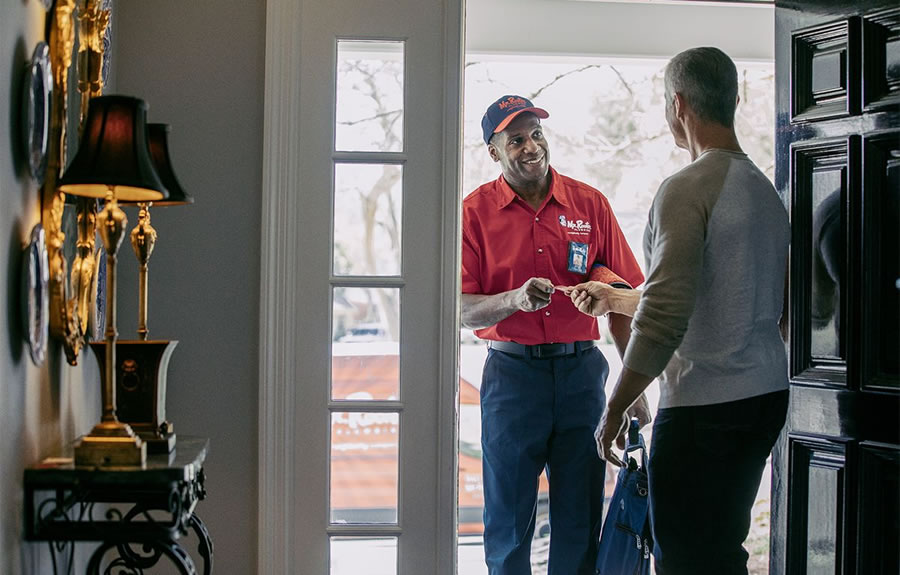 Pipe Repair & Repipe in Dallas, TX
Plumbing pipes are an essential component of any plumbing system, carrying water to and removing waste and wastewater from the property. There are several types of plumbing pipes available, each with its own set of benefits and drawbacks. What they all have in common is that each is vulnerable to issues that call for pipe repair. Eventually, even the most robust material will break down and need to be replaced. If you need broken pipe repair or repiping in Dallas, you can call Mr. Rooter Plumbing for quick and reliable service. Our live representatives and dedicated plumbers in Dallas are on standby for your call.
Types of Plumbing Pipes We Repair, Replace, and Install
There are several types of plumbing pipes commonly used in homes and buildings, and we work with many, including but not limited to:
Copper: The gold standard of plumbing pipes, copper pipes are durable and long-lasting, with an average lifespan of 50 years. They are resistant to corrosion and can withstand high water pressure.
PVC: Lightweight, affordable, and easy to install, PVC pipes are a popular choice for drainage systems though they are versatile and suitable for hot and cold water. They have an average lifespan of 25-40 years.
PEX: Cross-linked polyethylene, or PEX, pipes are flexible, resistant to freeze damage, and easy to install, making them ideal for retrofitting existing plumbing systems. They have an average lifespan of 40-50 years.
Common Issues That Call for Pipe Repair
How do you know it's time to call a nearby plumber for pipe repair in Dallas? Here are some tell-tale signs of trouble to watch out for:
Low water pressure from faucets and showerheads.
Discolored or cloudy water.
Unpleasant odors from drains and taps.
Banging, rattling, and other strange sounds from pipes.
Water damage on walls, ceilings, and floors.
Unusual spike in water bills.
Address these issues as soon as possible and remember: a quick pipe repair today is better than a broken pipe replacement in Dallas tomorrow!
Minimally Invasive Repiping and Pipe Repair
You don't have to stress out over the thought that your walls and floorboards will get torn apart for repiping. When you hire Mr. Rooter Plumbing to repipe your plumbing, you can rest assured knowing we use minimally invasive techniques like pipe lining and pipe bursting.
Pipe lining is the preferred option for minor repairs. This method involves inserting a flexible lining into the damaged pipe and then curing it in place. The lining material is usually made of resin or epoxy and is designed to create a new pipe inside the damaged one. You can think of pipe lining as patching the pipe from the inside.
For extensive or severe damage, there is pipe bursting. This method involves using a machine to pull a new pipe through the old one, which breaks apart as the new pipe takes its place.
Call Mr. Rooter for Emergency Pipe Repair
Are you dealing with a leaking or burst pipe? You don't have to wait through the weekend or holidays for a plumber. Call Mr. Rooter Plumbing for emergency pipe repair today. Our live representatives are on standby for your call.