Kitchen Plumbing
The kitchen is often referred to as the heart of the home, and the plumbing system plays a crucial role in its functionality. On the flip side, dysfunctional kitchen plumbing can raise your heart rate as you stress over a backed up kitchen sink, a leaky garbage disposal, or a faulty dishwasher. Luckily, a uniformed plumber in Dallas is just one call away. Call Mr. Rooter Plumbing at any time of the day to speak with a live representative and schedule a convenient appointment or request emergency kitchen plumbing repair as soon as possible.
Preventative Measures for Kitchen Plumbing
Our mission at Mr. Rooter Plumbing is to see everyone in our community enjoy efficient and effective plumbing. To this end, we offer quality plumbing service and repairs as well as helpful tips and guides. Here are some preventative measures to help keep your kitchen plumbing in good condition and avoid costly repairs:
Avoid pouring used fats, greases, or oils down the drain, as they can solidify and cause clogs.
Use a sink strainer to prevent food particles from going down the drain.
If you have a garbage disposal, make sure to avoid tossing fibrous and hard foods in the kitchen sink.
Regularly clean the garbage disposal by grinding ice cubes and lemon peels.
Don't overload the dishwasher or use it for items that are not dishwasher safe.
Maintenance Tasks
Preventative measures can go a long way in protecting your kitchen plumbing, but they are not perfect. Regular maintenance is the next step and can help extend the lifespan of your kitchen plumbing and prevent problems. Here are some tasks to consider: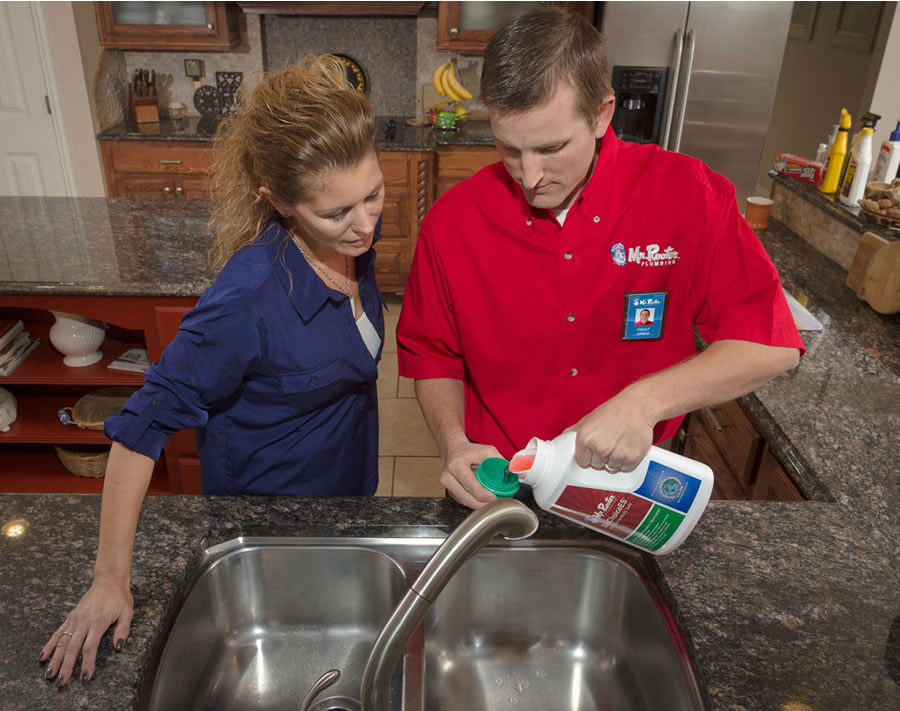 Inspect pipes under the sink for leaks and fix them immediately.
Clean faucet aerators to prevent buildup.
Check for clogs and leaks in the dishwasher hose and supply lines. Clear clogs and replace damaged parts as soon as possible.
Inspect the garbage disposal for signs of wear or damage.
Signs of Trouble
If you notice any leaking pipes, cracked hoses, or damaged garbage disposals, then get to repairing as soon as possible. Here are some more subtle signs of trouble to watch out for:
Slow draining sink or clogged drain.
Dripping faucet or leaky pipes.
Foul odors from the sink or garbage disposal.
Low water pressure or no hot water.
Water stains or damage under the sink or around the dishwasher.
Call Mr. Rooter Plumbing as soon as you notice these warning signs so we can get to the root of the issue before it becomes a bigger problem. Our uniformed plumbers are trained and equipped to get the job done right the first time around.
Emergency Kitchen Plumbing Repair is Available
Are you dealing with a backed up sink or leaking pipe in the kitchen? There's no reason you should have to wait through the weekend or holidays to have a nearby plumber come by for a quick repair. Call Mr. Rooter Plumbing to request emergency kitchen plumbing repair in all areas of Dallas, TX.