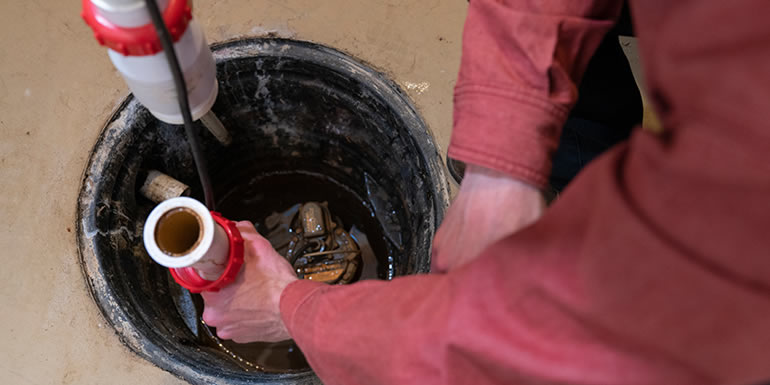 Sump Pump Installation
If you live in a low-lying area or geography prone to heavy rainfall, then your basement or lower levels should have a sump pump to automatically remove any water that makes it inside. If not, then we recommend you arrange a sump pump installation as soon as possible. For those with an installation already in place, make sure to test it regularly and repair it if faulty. Residents who are looking for sump pump repair in Dallas can call Mr. Rooter Plumbing of Dallas to schedule a convenient appointment. We are also happy to arrange an emergency sump pump repair as soon as possible.
What is a Sump Pump?
A sump pump is a device that is typically installed within a sump pit in the basement or crawl space of a home to remove water that comes in. This device is used to pump the water out of the pit and away from the property, helping to prevent flooding and water damage. Sump pumps can be powered by electricity, battery backup, or both, and they may be activated automatically by a float switch or manually by a switch.
Maintaining and Caring for Your Sump Pump
The sump pump can save you from costly and devastating water damage and it is fairly reliable, but it could use a hand every now and then. Here are some of our recommendations to ensure your sump pump installation in Dallas gets you the best results:
Regular testing: It's important to test your sump pump regularly to ensure it's in proper working condition. To do this, simply pour water into the sump basin until the float rises and activates the pump.
Cleaning: Clean the sump basin regularly to prevent debris from clogging the pump and causing damage.
Backup power source: Consider installing a backup power source, such as a battery or generator, in case of power outages.
Check valves: Make sure the check valves are properly installed to prevent backflow and ensure water is being pumped away from the home.
If your sump pump is acting up or faulty, then call Mr. Rooter Plumbing to arrange sump pump repair in Dallas as soon as possible. You don't want to get caught with a malfunctioning sump pump.
When to Replace the Sump Pump
Like all mechanical devices, a sump pump has a limited life expectancy of around 10 years. That's when it might stop working properly and you should consider a sump pump replacement. Other causes for concern include:
Strange noises: If your sump pump is making unusual noises, such as grinding or rattling, it may be time for a repair or replacement.
Constant cycling: If the pump is constantly turning on and off, it could be a sign of a problem with the switch or float and may need to be repaired or replaced.
Further, if your area experiences frequent power outages, then it might pay to arrange a backup sump pump replacement in Dallas. You can also go with a battery backup or even a generator. The professionals at Mr. Rooter Plumbing are happy to help you decide or take care of the sump pump installation.